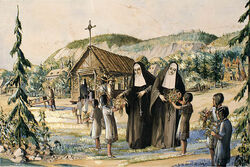 The history of St. Marie encompasses its founding by Father Jacques Marquette in 1671 to its brief period under British rule up until its conquering by the American revolutionaries in 1783. Throughout the 19th century, Ste. Marie was the most important city west of the Appalachians in the Northwest Territory.
Today, Ste. Marie is one of the most influential cities of the Great Lakes, acting as the cultural and financial hub of northern Michigan and Michigan's upper peninsula. Its monumental, colonial architecture sets it apart from other Midwestern cities.
Founding
Edit
Prior to the arrival of the French, the Odawa-Ojibwe Indians maintained an extensive trade network in the area. In 1670, Claude Dablon established a Jesuit mission on nearby Mackinaw island which was presumably destroyed.[1]In 1671, Father Jacques Marquette, along with his traveling partner Louis Jolliet, founded a mission on the exact same spot. In the fall of the same year, Marquette moved the mission to present-day Fort Michilimackinac State Park, founding the city of Ste. Marie.
A new chapel was built in 1674, a year before Father Marquette's death near present-day Ludington, Michigan. Fort de Buade was completed in 1679, and by 1683, the young city had a population of approximately 440. The village remained an important outpost until a fire in the summer of 1705 destroyed most of the structures. Many of Old Ste. Marie's current architecture dates back to the time after the fire, including the Basilica of the Sacred Heart, completed by Father Étienne de Carheil in 1712. In 1715 Chevalier Jacques Testard de Montigny (appointed Governor of Ste. Marie, 1715-1733) described the area as a wretched barren coastline dotted with stunted cottonwoods.
Ste. Marie was designated as part of the Canada territory of New France and, unlike the colonies in the Saint Lawrence River Valley, it was largely left out of the French and Indian War.
↑

Early History of Ste. Marie